Blood Testing Clinic Now Open at Hynes Pharmacy Roscommon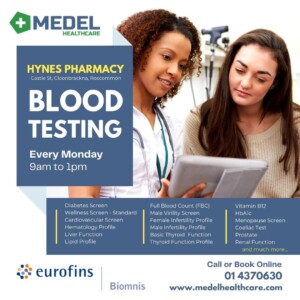 Medel Healthcare are pleased to announce Hynes Pharmacy Roscommon as one of our new locations for our popular Blood Testing Clinic. Over the past number of years we have successfully created Blood Tests that are affordable, effective and efficient for patients requiring private blood testing. Hynes Pharmacy Roscommon is the perfect match in the Roscommon region after the success of our Covid 19 testing service which ran from January 2021 to June 2022.
We are also please to announce 20% OFF all blood tests until the end of 2022 at Hynes Pharmacy. To avail of the discount please use coupon code: #health
Medel Healthcare will launch their first blood testing Clinic on 26th of September 9am – 1pm
All results will be issued within 7 days of blood test.