Medel are delighted to Welcome Cathal Joyce as Cardiac Ambassador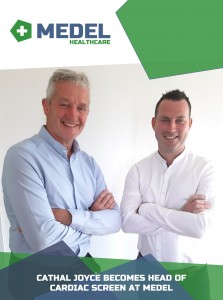 Medel Healthcare pulled of a major coup when naming Cathal Joyce as our Cardiac Health Screen ambassador.
Imagine leaving hospital after being clinically dead for about 30 seconds, surviving it and then being told you don't receive the same treatment because you didn't suffer a heart attack.
Cathal suffered a cardiac arrest in Cusack Park Mullingar on Sunday 13th September 2015. That morning I felt great, I packed my gear bag and made my way to the game, it was the intermediate semi-final against Rosemount GAA. We did our warm up on a pitch beside Cusack Park and I completed the warm up with no complications or indications that I was about to suffer a cardiac arrest. We then made the short trip over to Cusack Park when arrival at the pitch we went straight into the dressing room.